Keynote speaker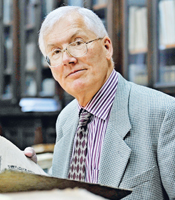 Michael Ursinus
Professor emeritus Michael Ursinus is a specialist in Ottoman history and language and for many years held the Chair of Islamic and Ottoman studies at Heidelberg University. Until his retirement early in 2016 he worked as a university professor, having held the position of lecturer at the University of Birmingham (Centre for Byzantine, Ottoman & Modern Greek Studies) and professor of Turcology at the University of Freiburg. Since 2006 he has been president of the International Committee for Pre-Ottoman and Ottoman Studies (CIÉPO). Michael Ursinus was co-editor of the journal Die Welt des Islams for many years and a member of the editing committee of Archivum Ottomanicum till 2016, and is a member of the national committee of AIESEE as well as a member of the British Society of Middle Eastern Studies and of the Society for the Promotion of Byzantine Studies. His research interests focus on south-eastern Europe under Ottoman rule.
"The Sea Giveth" – Ottoman Ways of Drawing on Coastal Resources in the Hinterland of Vis
(mid-16th to early 17th Century)
Maritime resources, such as taxes from maritime trade, fishing, and the production of salt, are particularly plentiful, and their exploitation especially promising, at or near the mouth of rivers emptying into the sea. Between Makarska in the South and Islam in the North, i.e. in the coastal 'hinterland' of the island of Vis, Ottoman control over the coastal territory of the Adriatic Sea extended to only three coastal bays with rivers discharging into them: At Kamen near Stobrec (with the river of Žrnovnica), at Sućurac near Solin (with the rivulet of the same name), and at Kruševo near Obrovac where the river of Zrmanje discharges into the Bay of Novigrad, an extension of the Canal of Velebit (Velebitski kanal). The present paper constitutes an attempt at using available Ottoman archival sources from between the middle of the 16th and the beginning of the 17th century for showing how, and to what extent, the Ottoman state and its beneficiaries made use of the available resources from taxing maritime trade, awarding fishery rights (dalyan) and producing salt in state-controlled salt pans (memleha). Due to the nature of the available sources, the organisation of the production of salt in the Stobrec area will be in the focus of this presentation.